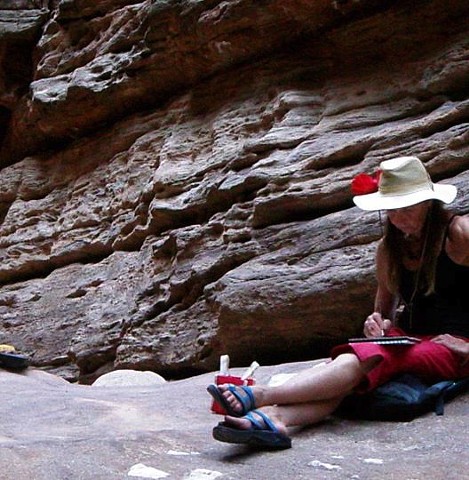 CARDS still availabel 18 different images; to celebrate the Grand Canyon. The price for a set is $25.00 + shipping, these cards pretty much represent 14 of my current works: Ocotillo, Upset Rapids, Toroweep overlook, Smokey Granite, 3 flower pictures, Narrows, Flood in National...and more. Single cards $2.00
As always you can view current and past paintings, plus you can view some of my families artwork. All of which reflects our deep appreciation of all 'Art' and the great outdoors.
My personal art style is a direct reflection of my long time career as a river guide, rowing my own dory boat the Dark Canyon. Currently my husband Regan Dale is rowing dories for Grand Canyon Expeditions that is located in our home town of Kanab Utah. Go book a trip!
When guiding I enjoy doing small paintings, later in my studio I do larger works. For me coloring has always been a joyful endeavor, an experiment in impressions and hopefully it reflects my love of the natural world. On request I enjoy the challenge of creating a memorable place that you may have experienced in your travels.
I hope you enjoy visiting my website, please contact me if you have any questions.Ote or by phone 435 899 9824